Make the Most of Your Alumni Benefits
Learn how to use the Member Compass and the Member Directory to make the most of your alumin benefits with Leadership Augusta. These features allow  you to manage your membership information quickly and conveniently. In addition, find answers to some Frequently Asked Questions at the bottom of the page.

The Member Compass
The Member Compass is where you  manage  your membership information.  When you login to the website, you'll be redirected to the Member Compass. Update your profile and contact information as needed, manage activity such as event registrations, view and pay open invoices, and more.  
Access:   Logged in users  are  able to see their personal Dashboard that displays their membership status, their transactions, event history, order history, and their personal profile information. 
Billing -

alumni

 can  see and pay transactions, or update their billing address.

 

Parent

Company - 'Parent Company' is your current employer.  You will not be able to  edit the company name. If your company name needs to be updated, please Contact Us for assistance.
Dashboard: This serves as the home page for your Member Compass. You can click this at any time to get back to this main screen.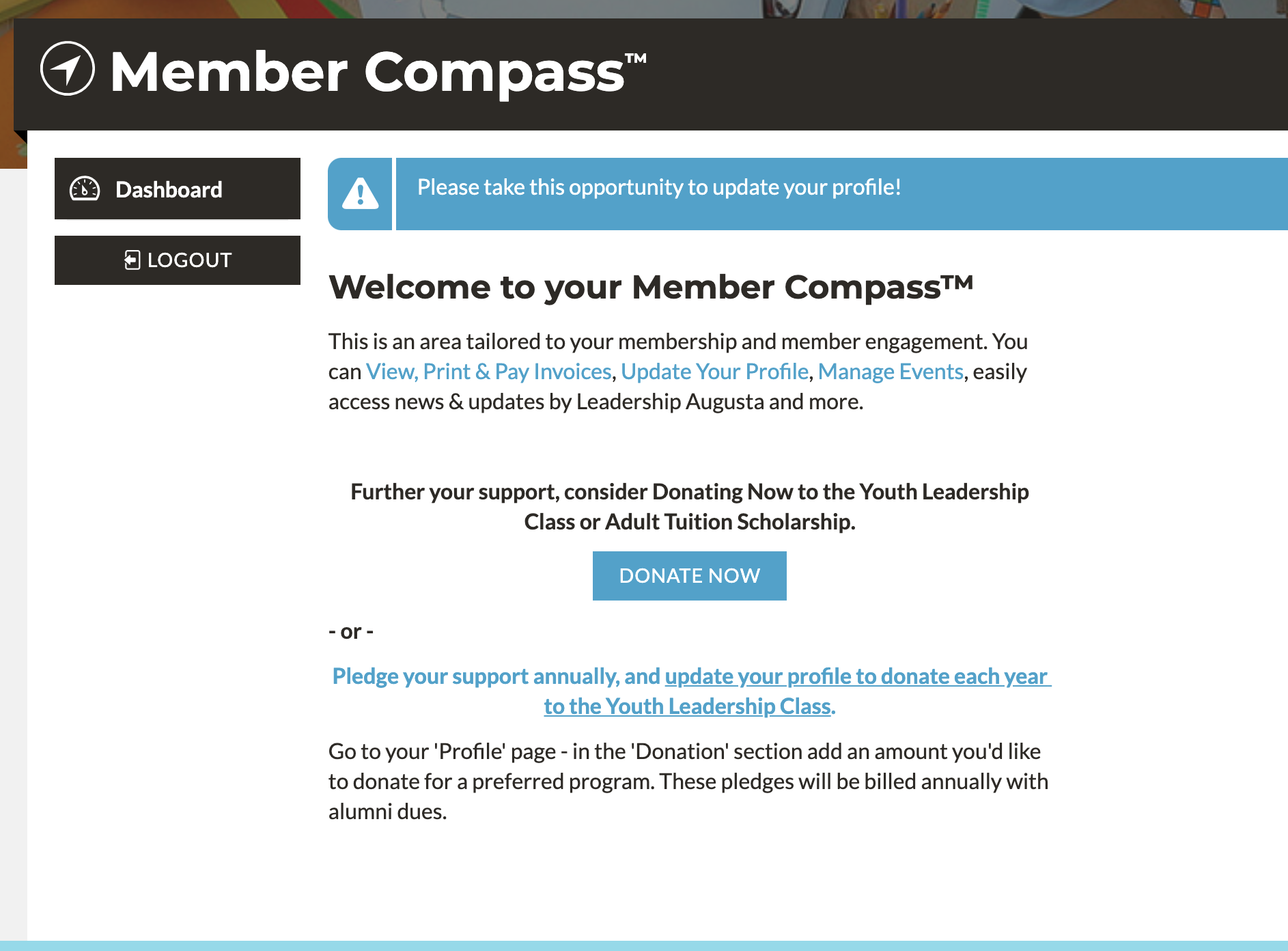 Here, you're able to view the number of open invoices, as well as the number of upcoming events you're registered for.  Note: If you're not registered for any events, and/or if you don't have any outstanding invoices, the corresponding information won't display.
To view past transactions and pay open invoices, click on the Account History tabs. This section shows detailed information on your invoice history.
The My Events tab shows events that you are currently registered for. Use the link next to the event to add it to your calendar. You'll also be able to see a list of other upcoming events and past events on this page.
My Orders: If you've made a donation or purchase, those orders will be shown here. 
To update your individual profile, select the Profile tab. Upload information you'd like to share with other Leadership Augusta alumni or classmates. This can include credentials, headshots, social media links, or other information. Updating your profile information here updates what displays on the Member Directory.
Use the Login & Password tab to update your login credentials, and Payment Methods to make changes to your saved payment methods (if applicable).
---
The Member Directory
The Member Directory allows you to find and connect with other Leadership Augusta classmates and alumni.
Here are some of the features of the Membership Directory:
Filter by Member Type: Filter by member type, class year, and class type.
Search by Name: The Quick Search function in the Member Directory allows you to search by typing in just a few letters of a company's or individual's name.
---
Frequently Asked Member Questions:
First and foremost, login to ensure you can access your full member benefits. To login, click the Login button in the top right of the page. Need to create an account? Visit this article to find out how.
How do I apply to be a part of a Leadership Augusta program? Thank you for your interest! Click the links below to find out about each of the different classes:
How do I view and pay my invoices? In the Member Compass, view transactions that have been billed to you under Account History. If you're a Primary Contact, Billing Contact, or have management access, you'll also be able to view transactions billed to the company and other related contacts.
How can I tell if I registered for an event? View your registrations in the My Events tab of the Member Compass to see events you are currently registered for, plus events you've previously attended.